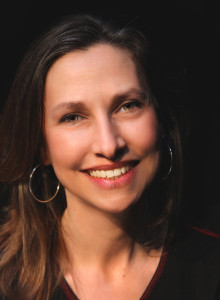 Dana Leslie Goldstein is an award-winning playwright and lyricist who was born in New York City (in the borough of Queens) and lives in New York City (in the borough of Brooklyn).  She received her undergraduate degree from Wesleyan University, as well as Master of Fine Arts degrees in Poetry from University of Virginia and Playwriting from Brandeis University, both of which she attended on full writing scholarships.
Dana's work has won the New England New Play Competition, Harold and Mimi Steinberg Playwriting Prize, Different Voices New Play Award, ACTF New Play Award, the Henry Hoyns Poetry Fellowship, AWP Intro Award and an Academy of American Poets Prize, as well as numerous development grants.
Dana's plays and musicals have been seen at The Cherry Lane Theater, Culture Project, Julia Miles Theater, The York Theatre Company, Theatre 80 St. Mark's, New Dramatists, Center Stage, BMI, Vineyard Playhouse, Pulse, Theater Row Theatre, Gene Frankel Theatre, The Barrow Group, Acorn Theatre, Lark Theatre Company, Beckett Theatre, Neighborhood Playhouse, The Workshop Theater, Pacific Theatre (Vancouver), TischAsia (Singapore), at the New York Musical Theatre Festival, on Ellis and Liberty Islands, at the United Nations and on Equity TYA tours throughout the East Coast.
Dana's musical LIBERTY (book & lyrics) will open in New York City in 2018. The show enjoyed an off-Broadway run at 42WEST in 2016, after initially premiering off-Broadway at Theatre 80 St. Mark's. Prior to these productions, LIBERTY ran out of town at the 1,700 seat Warner Theatre Center (CT).  The original cast recording has been released by Broadway Records and is also available on iTunes and Amazon.  LIBERTY is available for national and international licensing through Miracle or 2 Productions.  LIBERTY's development has been supported by grants from the New York City Department of Cultural Affairs.  Dana's dramatic writing has also been funded by the Women's Project Collaboration Initiative and the Sachar Foundation.
Dana's play Daughters of the Sexual Revolution is in development for commercial production in 2018. Work on Daughters of the Sexual Revolution has been supported by the Dennis and Victoria Ross Foundation. An excerpt from the play will be published in Best Women's Stage Monologues of 2017 (Smith & Kraus). Daughters was produced on the Main Stage at The Workshop Theater (NYC).  Additional presentations have included the New York Society for Ethical Culture in New York, and the Players Club Theater of Swarthmore in Pennsylvania.
Dana has been a lyricist at BMI and a member of the Playwrights Lab at The Women's Project, where several of her plays and her comic book musical CYCLONE and the Pig-Faced Lady originated.  CYCLONE was also an official Next Link selection of the New York Musical Theater Festival and has been seen at the York, TBG and most recently at The Workshop Theater in NYC, where it is continuing its development.
Dana's newest full-length play Go Down, Moses was recently seen in public, staged readings at The Workshop Theater and is being developed for production in 2017-2018.
Dana is Playwright-in-Residence for Theater Garden, Ltd. She is both a member playwright and the Managing Director of The Workshop Theater. Dana is a long-time member of the Dramatists Guild of America.