book & lyrics by Dana Leslie Goldstein, music by Jon Goldstein
Our play begins as Frederic Bartholdi puts the finishing touches on his magnificent "Liberty Enlightening the World". But before he sends her off to become the embodiment of the American dream, Liberty is transformed. She embarks on her journey as an innocent young girl, carrying with her only the hope that she'll become the iconic symbol that we know today. No torch, no shackles, no crown.
We watch as Liberty inspires Emma Lazarus to write The New Colossus, and Joseph Pulitzer to create The Pedestal Fund. Her understanding of the American people grows as she encounters individuals from all walks of society – politicians, dockworkers, street urchins, fellow immigrants, freed slaves, and Native Americans. Only then is she ready to embody their hopes and aspirations and finally ascendto her place atop the pedestal. She has fulfilled Bartholdi's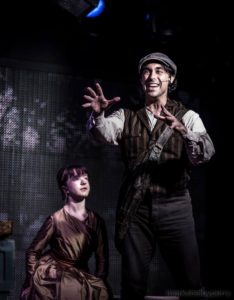 vision for her, and much more.
In a poignant, but always entertaining 90 minutes, Liberty learns of our complicated history, and we are reminded of the unique and vibrant country that America is and always will be.
LIBERTY is now available for licensing through Miracle or 2 Productions.
Cast album available at Broadway Records.
Liberty photos by Mark Shelby Perry
PRESS AND REVIEWS
Excellent musical, LIBERTY… a fascinating story of resiliency as well as a tribute to the common man. BroadwaySelect – July 5, 2016
---
Price of a Hamilton ticket make you wince? Well, don't sit at home and mope. There's a new musical LIBERTY just a few blocks away at 42West that's making some patriotic waves of its own. CurtainUp – July 5, 2016
---
A perfectly timed, unfortunately relevant and utterly thrilling musical, titled LIBERTY, opened July 4 … It addresses our aspirations, the America of our hopes and dreams and, yes, this reviewer wept! TheaterPizzazz – July 4, 2016
---
'LIBERTY, a Monumental New Musical' teaches a history and human rights lesson to the entire family OnStage – July 4, 2016
---
"You couldn't do better than to take the whole family to see LIBERTY, a modest but magnificent new musical.." TheaterLife – July 2, 2016
---
'LIBERTY: A MONUMENTAL NEW MUSICAL' – The Need to Have a Place to Call Home PXP.TDF – June 28, 2016
---
"While it opens to the tone of a light-hearted musical comedy, LIBERTY builds unexpectedly to intensely moving heights. As the piece neared its conclusion, silent tears could be seen on the faces of the audience members, and sniffs heard throughout the room." PlaysToSee – June 26, 2016
---
Her Immigration Story Is Universal. The two-decade journey to bring a musical about Lady Liberty to the stage. TDF – June 30, 2016
---
Dana Leslie Goldstein on the creation of LIBERTY TheaterMania – June 21, 2016